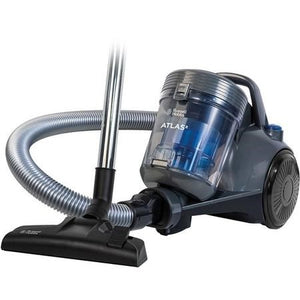 Russell Hobbs - Vaccum Cleaner - RHCV3101
€8500

€85,00

Save €5
VAT included.
---
---
The Russell Hobbs ATLAS2 single cyclone vacuum is the perfect addition to any home. With an energy efficient 700W motor and a 2.5L dust capacity, you can vacuum your home without the worry of constant emptying or losing suction. The floorhead makes light work of cleaning carpets and hard floor. The new and improved ATLAS2 boasts a Triple Dust-Lock Filtration system including a HEPA filter.
Improved Performance
Thanks to a high-performance 700W motor, the TITAN2 provides you with complete suction power for a longer period of time. With a 3L dust capacity, you can vacuum the house without the worry of constant emptying. Say goodbye to loss of suction and enjoy a powerful cleaning experience.
Improved Reach
The ATLAS2 has an extendable metal telescopic tube and flexible hose that can reach up to 2.3m, along with a 5m power cord. With an overall cleaning radius of up to 8m, it's always easy to reach a plug socket.
Portability
With an added carry handle and a retractable cord, this lightweight but powerful vacuum is easy to carry from one room to another, as well as up and down the stairs.
Multi-functional
The ATLAS2 is designed with functionality in mind. As well as cleaning hard floors and carpets, thanks to the range of attachments, you can easily tackle a range of difficult dusting jobs - even the upholstery on your cushions or sofa. The tools can be conveniently attached to and stored on the unit, so they're always close to hand.
Cyclonic Corkscrew Design
The TITAN 2 delivers powerful multi-cyclone technology and HEPA filtration, trapping allergens and preventing dust from escaping. The cyclones optimise your vacuum's suction and prevents dust from being blown back into the room. The corkscrew technology separates the larger dust particles and hair, while the smaller cyclone cones separate the finest particles and ensure they remain contained.
Great For Allergies
The Triple Dust-Lock Filtration system is designed to prevent dust from being released back into your home, and the simple lift-and-lock bin system offers quick and convenient emptying without any fall-out. The HEPA filter traps 99.5% of particles and prevents them being released back into the air, making this vacuum perfect for allergy sufferers. Each filter can be washed individually, giving you that added peace of mind.
Key Features
700W High efficiency motor
3-in-1 multi-tool
2.5L capacity
Triple dust-lock filtration
HEPA filter
5m Power cord
8m Cleaning radius
80cm Extendible Tube
Product dimensions (mm): (H)300 x (W)370 x (D)250
---
We Also Recommend