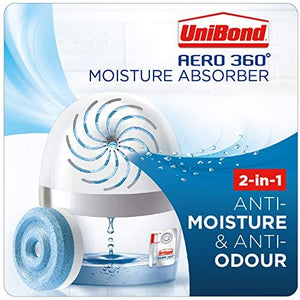 UniBond AERO 360º Moisture Absorber
€1600

€16,00
VAT included.
---
---
UniBond AERO 360º Moisture Absorber
For a Healthy Indoor Climate in Your Home!
Are you looking to reduce excess moisture in your home? Moisture comes from outside through open windows and can be caused by everyday activities such as showering, cooking or drying laundry.
Thanks to its 360° air circulation, the AERO 360° moisture absorber and odour neutraliser effectively absorbs moisture to help create a comfortable indoor climate and prevent common damp problems such as condensation, mould and musty smells.
To support the circular economy the Aero 360° device is now made with 60% recycled plastic and arrives in a 100% recycled box. The device and the packaging materials are also recyclable.*
The AERO 360° tab features an innovative 2-in1 technology: it strongly absorbs excess moisture but also neutralises bad smells in your home. The UniBond Moisture Absorber also indicates when a refill is required, promising non-stop moisture control.
*except tab foil and sticker on tank.
How Does the AERO 360° Work?
1. The AERO 360° system absorbs excess moisture and neutralises bad odours based on its unique 360° air circulation and innovative 2-in-1 tab technology with patented anti-odour properties.
2. The AERO 360° Tab converts moisture into a salty solution.
3. The salty solution is collected in the tank below.
**Depending on moisture level and room temperature.
The Product Benefits at a Glance:
Controls moisture and neutralises musty smells

360° air circulation and 2-in-1 refill technology

Unique AERO 360° refill tab lasts up to 3 months**

Convenient and safe to use

Ideal for rooms of up to 20m² (e.g. bedroom, living room, kitchen)

Non-electric, silent

Made from 60% recycled plastic

Format: 1 Device incl. 1 refill tab 450g
Help Prevent Excess Moisture and its Consequences in Your Home!
Thanks to its 360° air circulation, the UniBond AERO 360° Moisture Absorber effectively absorbs moisture while also neutralising musty smells – for a comfortable indoor climate!

The new AERO 360° device is made using responsibly-sourced and recyclable materials.

Comprised of ultra-active crystals, thanks to its patented wave-shaped surface the AERO 360° Tab enhances air exposure and circulation.

It also includes patented anti-odour agents to capture and neutralise bad smells.
How to Use
Push the 'OPEN' button on top of the device and open the refill tab packaging. Place the tab with the blue side facing downwards on top of the axis and close the device.

One of the UniBond AERO Moisture Absorber Refill Tabs lasts up to 3 months**.

**Depending on moisture level and room temperature.

Once the water in the tank reaches the refill level, open the spout and empty the water into the toilet.
---
We Also Recommend